welcome to our family restaurant
Montalbano is a family run restaurant born from our family's passion and tradition for great food served in great company. The menu is a mix of regional Italian dishes with touches of the very southern part of Italy: Sicily. We aim to bring the warmth of the south of Italy and delight you with great traditional homemade flavours. 
We look forward to meeting you.
Salvatore, Ana & the team 
Our live music & special food events are continuing to prove very across the year!
Keep up to date with our event listings and  we look forward to welcoming you soon.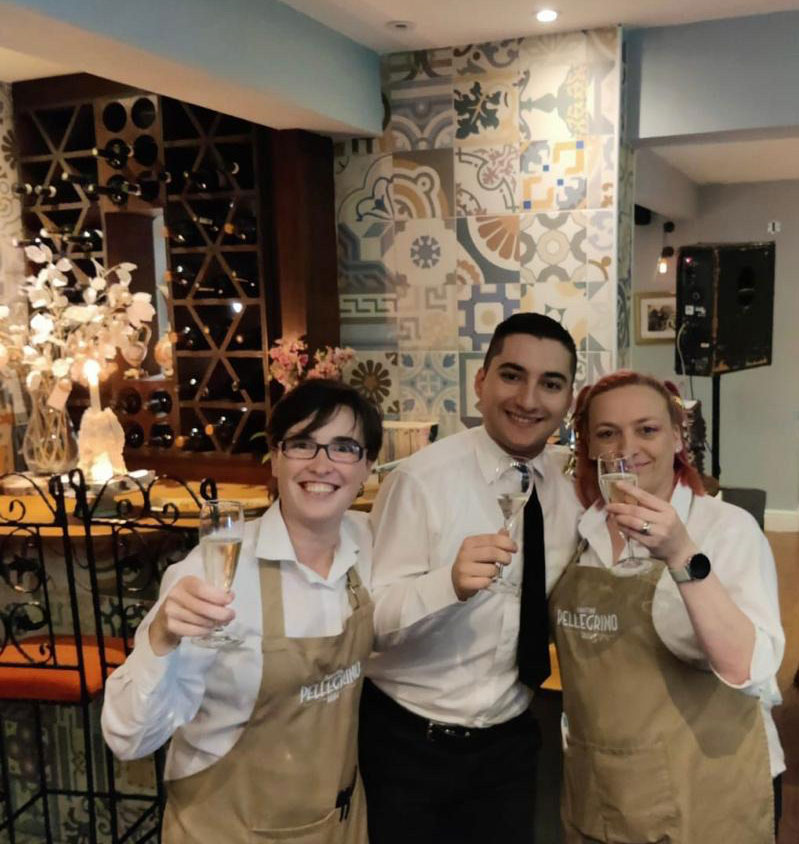 proud to be #1 on Tripadvisor
Excellent food and service The food was wonderful and the staff were attentive and polite. Both the starters and mains were cooked to perfection.
Yvonne S
February 15, 2023
Maintainable does it again. Valentines evening, what a treat. Everything we have come to expect. Superb food and service, in their beautiful candlelit restaurant. Perfect.😍
mtupou207
February 13, 2023
The Pasta of Dreams! This place had been recommended to us by our South African cab driver out of Headcorn station - so, of course, we had to go. After a wonderful tour and tasting session of the Chapel Down Winery, we thought pasta would be just the ticket.And it was!!!The restaurant was warm and inviting, the manager and wait staff were welcoming and attentive but the pasta was the clear star of the evening! Tender beef ragu and tasty alfredo were served piping hot, with the pasta cooked perfectly al dente.Will be recommending this place to everyone spending anytime in this part of the world. Well worth it!
Wonderful meal after a local wine tour Our lovely taxi driver from Tenterden Cars recommended & booked this restaurant for us & we were not disappointed. Everyone was so friendly & attentive, the atmosphere was relaxed & the general vibe was one of welcoming.The food was amazing, traditional Italian recipes & not a Pizza in sight. The choice of wines was lovely & service faultless.Great value for a 3 course meal with wine in a lovely setting.
Michelle I
February 11, 2023
Amazing! What a fantastic restaurant, drinks, food and atmosphere 10/10. Lovely family run little place in a stunning little village ❤️
James C
February 11, 2023
Try it, you'll love it We ate here while we were staying locally for a weekend away - very impressive food, expertly cooked, knowledgeable & friendly staff - also, really reasonable prices. We will 100% visit again 👏🏻👏🏻
Gentlemen's luncheon A group of us gents ( 5) lunch once a month, we each get to choose a venue in rotation. We were looked after extremely well, the food excellent and reasonably priced. Worth your patronage.
Lovely people and great food Excellent service, and always a friendly welcome. The setting is open and atmospheric and they serve great food.
Lovely restaurant and great staff We recently celebrated a birthday here and the staff were so friendly and the food was great (plus portions were good sizes). They even gave us Prosecco on the house as well as brought out a dessert with a candle. Incredible service!
New Year's Eve at Montalbano. We decided to treat ourselves for New Year's Eve. And we glad we did. We enjoyed a wonderful night at Montalbano. The food was outstanding. The service was as friendly and professional as ever. The entertainment, provided by the excellent Faye Phillips really made the evening a night to remember. Thank you Montalbano, and thank you Faye Phillips we hope to see you at Montalbano again soon.
Are you finding it difficult to find that special present? Our gift vouchers, which can be redeemed at both Bottega and Montalbano Restaurant, can be purchased in £20 and £50 values. Please enquire at the restaurant or by email or purchase below